These classes are offered now as self guided classes with 24/7 access to all the posts, videos and materials. Additionally I will monitor the classrooms for questions and comments weekly to provide feedback and support through each of the classroom's comment section.  They are also forever yours to go back and rewatch videos and lessons in the classroom!  I look forward to seeing you in class!
A 6-week online painting course that helps unlock your very own style!
For over 20 years I have taught painting to thousands of adults in my own little art school and on location.  I am very excited to bring this experience into our new online classroom for you now. Absolute beginners are warmly welcomed and advance students will be challenged!
What has been most exciting for me as a teacher -  year after year – is watching each of my students embrace their own unique style. That is one of the main focal points in this class – along with some solid painting techniques and tons of inspiration! Like in my studio classes you can work at your own pace. You can do as much as you like – and when you like – in this class.
---
Inspiring exploration into the playful world of mixed media painting.
This 4-week course will give you so many methods and materials as tools – and inspiration- to gently draw out your own style of painting.  In my studio classes I find the greatest joy in watching each student's OWN style emerge and flow, and THAT is the focus of this course! The more go-to tools you have – the easier it becomes to find your self in your work. For over 20 years i have taught these methods and find great inspiration from each new student I meet! This class is a perfect for absolute beginners and more experienced artists alike.
---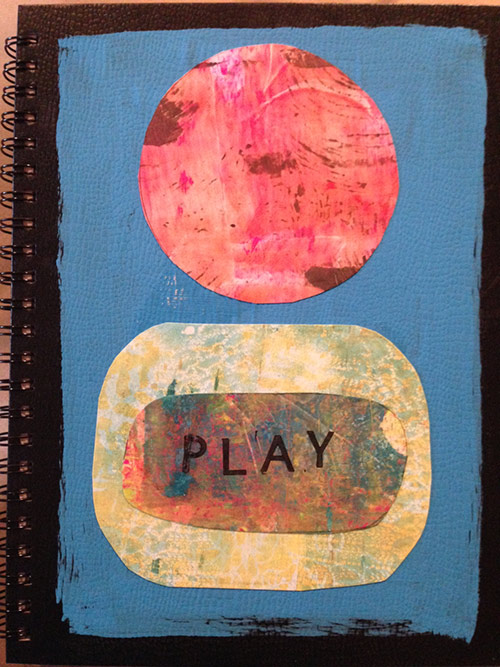 An all new mixed media adventure with all new methods and materials!
Each day a new technique – a new process will emerge for you to try and to use in your own work! Every day you will be given a lesson which will open up new possibilities in your art work! Combined with a playful positive environment the class will work specifically on paper, with paper and through paper to expand your options while making art!
Four weeks of inspiring exploration into the playful world of working with paper!
---
A course with experimental and intuitive processes that will inspire your art making!
Class 1: Monoprinting
Four weeks of learning the playful painterly way of making monotypes, monoprints, gelatin prints and ghost prints on both paper and fabric. The process is addictive and allows for letting go and loosening up! This low tech/process rich process is for absolute beginners and the seasoned artist looking for something new. [more info]
Class 2: Block Printing (on Paper and Fabric)
COMING SOON
Four weeks of learning to design, carve and then print your block. I have been carving both wood and various types of linoleum blocks for over 30 years and find it to be one of the most relaxing and exciting ways to play with printmaking! The process is simple and I have taught ages 7 to adult to create their unique block for printing. [more info]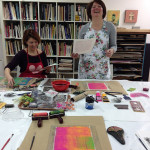 Class 3: Silkscreen (on Paper and Fabric)
COMING SOON
The magic of multiples is alive and well with the silk screening process! We will learn three methods of creating screens to print hundreds of images on paper and fabric. This process is so much fun that you will want to print on everything in sight. [more info]
Register
---
Watercolor I : Florals and Abstract – get loose and love the medium that goes anywhere with you! This  self-guided four week class is a perfect way with simple materials – to jumpstart your painting practice. We will explore the most playful ways to create lush beautiful paintings with flowers and abstract subjects. Frustration free and rule breaking! [more info]
Register
Art Together (Adult+Child Class)   coming soon
Art Together: Adults and kids making time for art.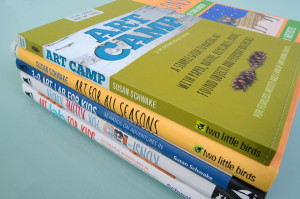 Do you want to spend some quality time with a special child making art in a relaxing creative fashion? Then this class is for you! Take this class with a child or on your own to share with a child later and discover the joy of process art. This class is a great way to begin your own creative journey to making art again or for the first time! Based on my bestselling books from the Art Lab for Kids series and Kid's Art series.[more info]