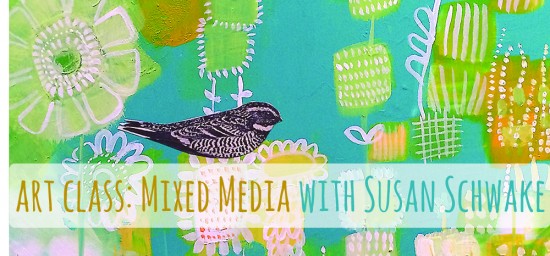 Self-Guided Class – Mixed Media 1
Originally a month-long class, all posts and videos are available immediately now for you to access.
You can go at your own pace, and soak up all the material as you wish. Join the conversation at our private Facebook group for added community! Not into Facebook? The classroom has a comment section where you can post photos and ask me questions.

You'll have lifetime access  to view all the videos and review all parts of the class!
Each day a new technique – a new process will emerge for you to try and to use in your own work! Every day you will be given a lesson which will open up new possibilities in your artwork! Combined with a playful positive environment the SKY IS THE LIMIT to what you will learn … join me now for Mixed Media.
30 full days of inspiring exploration into the playful world of mixed media painting. This course will give you so many methods and materials as tools – and inspiration – to gently draw out your own style of painting.  In my studio classes I find the greatest joy in watching each student's OWN style emerge and flow, and THAT is the focus of this course! The more go-to tools you have – the easier it becomes to find your self in your work. For over 20 years I have taught these methods and find great inspiration from each new student I meet! This class is a perfect for absolute beginners and more experienced artists alike.
Registration is open – so sign up today! Registration is on the right above!
Included in this 30 days of mixed media instruction:
building a series of paintings
creating rich surfaces and backgrounds
exploration of texture
questions and answers in our private facebook group
video instruction including students working in my own studio
downloadable materials
how to use printmaking techniques in your work
creative collage and paper making methods
harnessing composition and design elements in your work
building confidence through positive exercises
learning to let go of perfection
learning to love making an art journal
transfers, transfers, transfers!
working intuitively and spontaneously through play
adding your own photographs to a painting
being bold in your mark making
Lifetime access  TO SOAK UP THE INSTRUCTION!
You can go back and review all the materials and videos!
and a positive, nurturing environment for learning more about yourself – your work – and get the feedback you desire
Just some of what we will be covering:

Week 1: Collecting personal materials – creating dreamy backgrounds – using mediums – starting our sketchbooks
Week 2: Finding imagery – using stencils  – developing personal mark making tools -  line work
Week 3: Adding photographs – using transfer methods – adding your drawings – making beautiful textured papers
Week 4: Printmaking processes for mixed media – collage techniques – finishing touches – when to stop
AND SO MUCH MORE!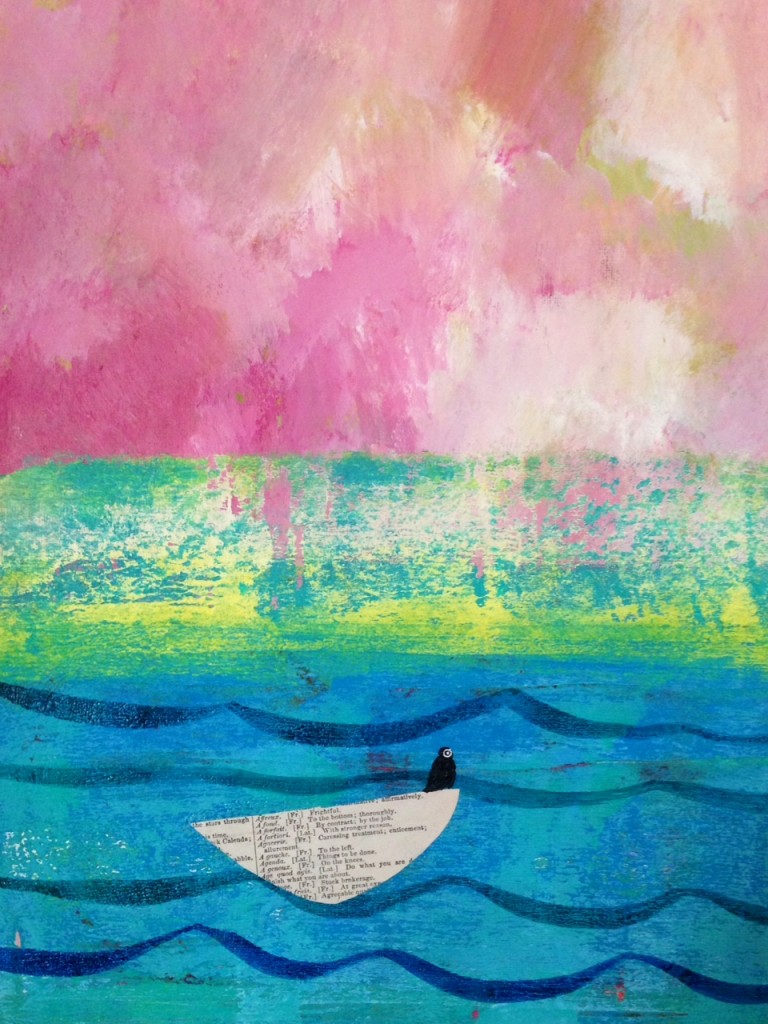 We will have multiple videos each week and daily posts with techniques, tips, methods and material exploration. The classroom is open 24/7, so it doesn't matter what time zone you are in as you can always access it!  Sound good? It is going to be FUN! Once you sign up a materials list and password will be sent to you. See you in class!