Fine artist and art teacher Susan Schwake is best known for her bold use of color in her nature-inspired abstract paintings and for her playful-process oriented teaching style.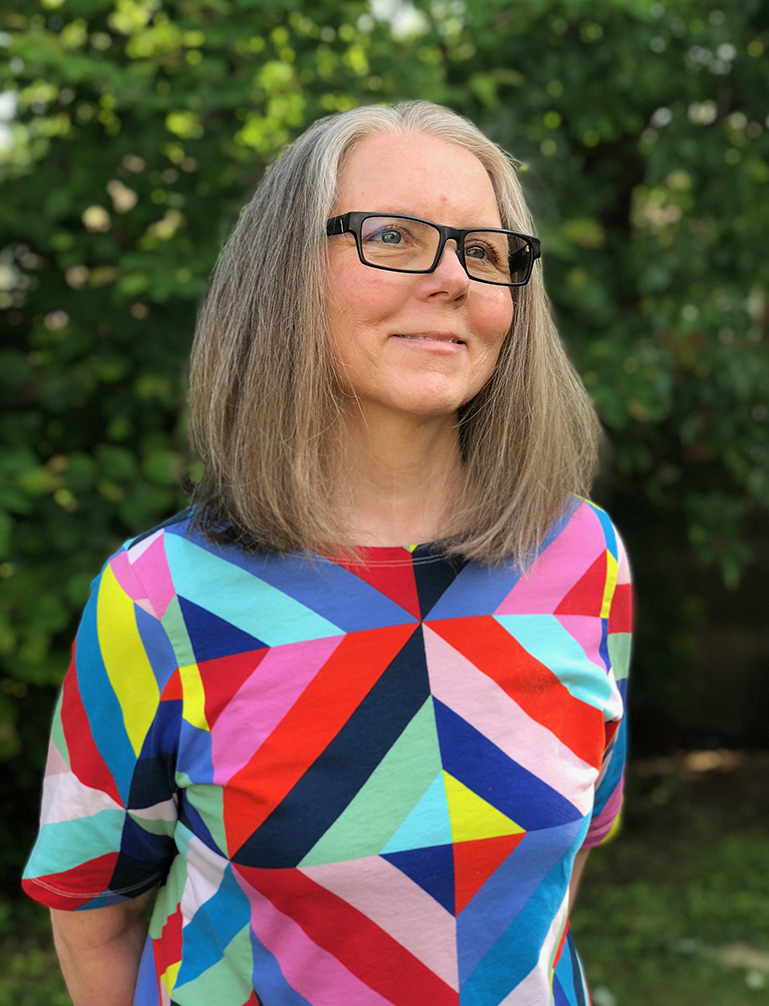 Artist
In her own work she is most interested in the role color plays in nature and often alters or amplifies color to uplift the work or draw greater attention to overlooked details. She explores and documents her love of nature in her daily art making practice. Profoundly interested in blurring the lines between reality and dreams her landscapes and larger works on canvas feature specific and composite locations rendered in unexpected color.
Along with exhibiting in New England venues, Susan has also created several large-scale, site-specific public artworks for local municipalities including Overnight Art in Portsmouth NH and Art Esprit Shoes of Rochester New Hampshire. Her work has been featured by United Airlines, Editions Boreal, Small Magazine from China, ON Magazine, and others. Her work has been featured online at The Working Proof, Juxtapoz, Poppytalk and Design Sponge. She has written for WhipUp and Illustration Friday Blog about artists, DIY and teaching art.
Art Educator
Her passion for teaching art and bringing out each student's personal style has found her working in diverse settings for over 20 years. She has inspired thousands of people in private and public schools, museums and libraries, community organizations, special needs agencies, summer camps, intergenerational facilities, at Plymouth State University and her own little art school, called artstream in Rollinsford, New Hampshire. Susan has also taken her classroom online and offers a series of e-courses that include painting, printmaking and mixed media.
Author
Susan Schwake has written six books about creating art with children (and daring adults). Art Camp is an easy-to-use collection of self-guided, open-ended lessons inspired by contemporary artists and nature. Art for All Seasons features 40 seasonally inspired creative art projects. These two books follow the release of her first three books from Quarto Publishing, the bestselling Art Lab for Kids series, with over 100,000 copies sold in the USA. The series has been translated into nine languages, bringing her teachings to worldwide audience. Other books in the series are Art Lab for Little Kids, 3-D Art Lab and Art Lab for Kids: Express Yourself. Her latest release Be an Artist Every Day features 365 on-the-page art activities–one for each day of the year (Publishing date UK: May 2020, US: June 2020).
Promoting the Arts
To date, Susan has curated over 100 compelling contemporary exhibitions at artstream gallery featuring hundreds of national and international artists' work. She also provides consulting services and has curated exhibitions for corporate art clients.
Susan lives and works on the Seacoast of New Hampshire. Deeply rooted in the belief that art truly builds a community she spearheaded the creation of the City Arts Commission in Rochester, NH. She also founded Art Esprit, a local artist non-profit organization and served as the first president, later as board member, and organized events and public art exhibitions. Among other volunteer work in the arts, Susan organized two art auctions to benefit the Rochester Opera House and later served as a board member. Susan serves on the advisory board of the Rochester Museum of Fine Arts, NH.