Self-Guided Class – Watercolor: Florals and Abstracts
This four-week class will playfully immerse you into the world of watercolor. We will dive into color mixing through juicy exercises working with this versatile medium. The uplifting daily weekday posts will inspire you to try new ideas in your work and expand your playful side – where all the good stuff happens! Most of all, this class will give you the tools and a gentle nudge to do the work, make a practice of it and develop your own style.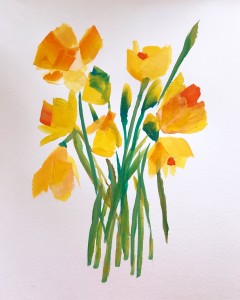 Watercolor Class!
This class is a perfect way to jumpstart your painting practice, with 24/7 classroom—lifetime access, for you to revisit and practice at your own pace. We will explore the most playful ways to create lush beautiful paintings with flowers and abstract subjects. Frustration free and rule breaking methods, which will include:
Playful color theory
Daily posts
Composition games
Working with single colors
Stretching our creative ideas into real paintings
Illustrative prompts
Unlocking your own style
Developing layers and working into them
Adding ink
Developing shapes with few strokes
Lots and lots of playful exercises to warm up each day
Weekly video instructions
Step by step illustrated instructions
Simple materials list
Best methods to find the right materials for your own work.
And lots of community within a safe private environment for sharing (if desired)!